Green reasons to visit Portland, Oregon
By Stefanie Wich-Herrlein
Have you heard of Portland, Oregon? I hadn't been to this city located on the US West Coast before moving here in the summer of 2019. It's been 4 years now that I call PDX my new home away from home. One reason why I love living in Portland, Oregon so much is the nature that the city is nestled in. The Pacific Ocean is only 1.5 hours away to the west. If you drive the same amount of time east, you will reach Mount Hood National Forest with its iconic, snow-capped Mount Hood. Continue your drive and the high desert awaits you as you pass over the Cascade Mountain Range. Portland itself sits in an abundant and fruitful valley, surrounded by farmland, and the Oregon Wine Country. Aside from the city's livable surroundings, Portland itself has been declared as one of the greenest cities in the United States. There are many reasons to visit Portland and experience the city's quirky character, liberal movements and extraordinary food scene yourself. Once there, you'll soon discover why Portland is one of the most sustainable cities in America.
Bike lanes and neighborhood greenways
Portland has many nicknames and you'll find out more about some of them in this article. One of it is Biketown and there are several reasons:
Portland was one of the first cities in the world to develop a master plan for bicyclists and pedestrians. For decades, Portland has taken steps to make riding safer and easier, installing 188 miles of bike lanes and 77 miles of Neighborhood Greenways (roads where bikes take priority). Currently, Portland has the highest rate of biking to work in any major U.S. city.
Not only is the bike a great transportation alternative to commuting and running errands around town, but every summer, Portland cyclists organize hundreds of fun-filled, public bike rides. These free, fun bicycle rides take place all summer long between June and August in different neighborhoods, known as Pedalpalooza. Bike summer for sure is one of Portland's most beloved summer events.
Pedalpalooza and World's Naked Bike Ride
Portland wouldn't be Portland and carry the slogan "keep Portland weird" if the city's residents didn't make this extra special. As part of Pedalpalooza, a very unique event takes place in Portland each summer: Portland's Naked Bike Ride.
Yes, you read correctly, a naked bike ride! Initially developed as part of a worldwide protest against the dependency on oil, this annual event has seen Portlanders pedaling naked every summer since 2004. Fun fact: Portland's Naked Bike Ride is the world's largest, drawing thousands of participants each year.
Each year the route is kept a secret; the organizers only reveal the starting point a bit in advance. When the ride begins, the clothes come off, the body paint goes on, and thousands of naked bike riders hit the roads, cruising commando through streets closed off to cars.
If you are visiting Portland during the World's Naked Bike Ride, join the crowds or join the fun yourself.
Bike-share program
Don't have your bike with you? No problem, the Biketown bike-share program offers visitors the opportunity to rent orange-colored eight-speed bicycles from many locations around the city.
Parks and Outdoor Recreation
Another of Portland's nicknames is Stumptown. Back in the mid-1800s, the city was growing quickly, so the land had to be cleared of trees to create housing. It was easier to cut down the trees than to remove the stumps, so the stumps stuck around, creating the nickname Stumptown. The stumps have since been cleared but the nickname stuck. That said, Portland has many green spaces with numerous ancient trees still growing in the middle of the city. Nowdays, these green urban spaces make Portland one of the most attractive cities in the US to visit, and to live in.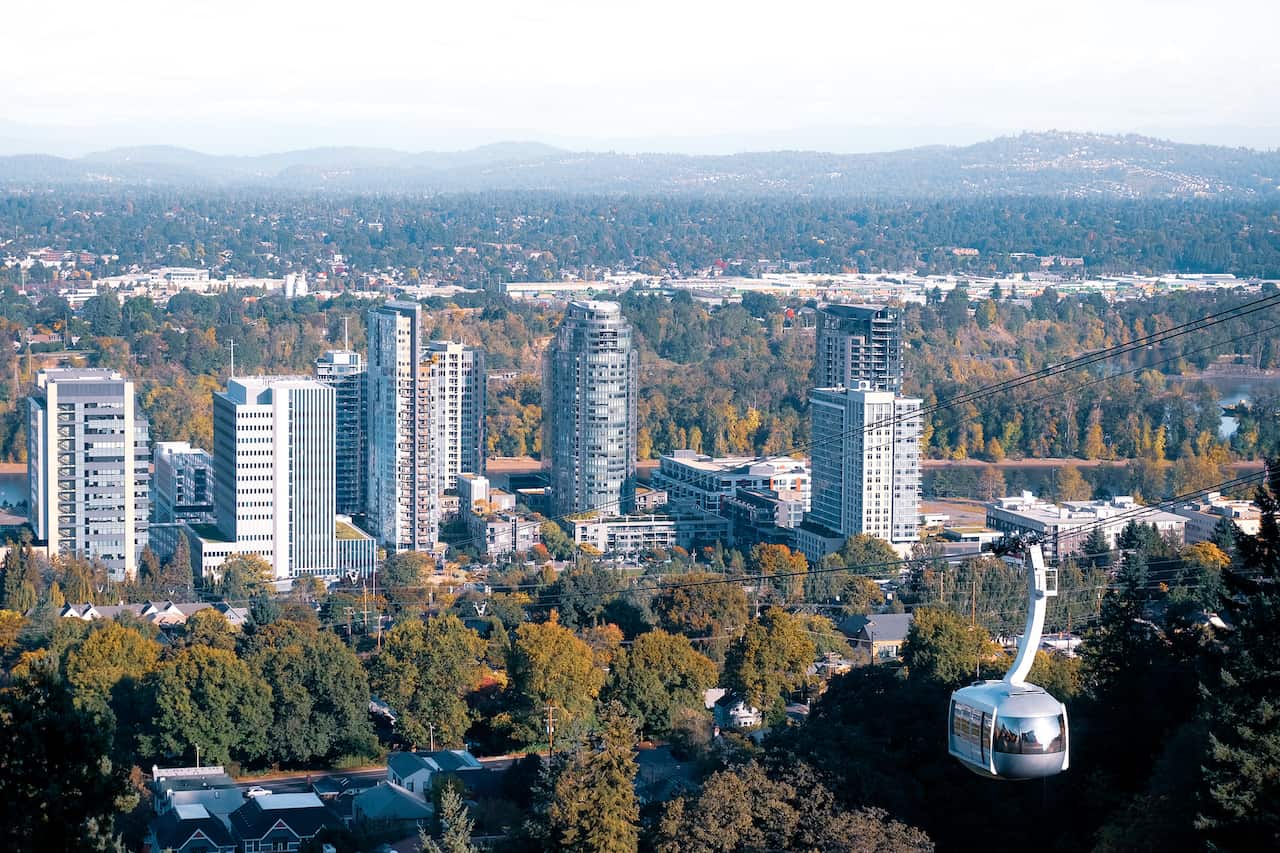 One of the greenest cities in the United States
Thanks to huge recreational areas, more than 150 developed city parks, tree-lined streets, flower-filled parks, polished gardens, urban forests, and waterfront venues along the river banks of Willamette and Columbia Rivers – Portland, Oregon is one of the greenest and most sustainable cities in the USA. In this sense, the city has some superlatives to boast about:
Portland's 5,000 acre Forest Park is one of the largest urban forests in the US, notably bigger than New York's Central Park. While Mills End Park Portland is home to the world's smallest dedicated park.
From hiking and mountain biking within the city to urban nature walks, summer picnics, free concerts and movies in the park, to outdoor music and neighborhood street festivals – the opportunities to enjoy nature within the city limits are endless in Portland, Oregon.
Forest Park alone offers more than 80 miles of hiking trails including the 30-mile-long Wildwood Trail, a designated National Recreation Trail.
And then there is Washington Park, home to the Hoyt Arboretum, Japanese Gardens, and the International Rose Test Garden, giving Portland one more nickname: Rose City.
4T-Trail: Explore Portland on foot
My favorite hike within the city limits is the 4T Trail. It was the very first trail I hiked after moving to Portland. Back then my husband and I didn't have a car yet and after some research, I found this trail as a great opportunity to explore the city and its natural surroundings sustainably by using public transport: The 4 'T's stand for Train, Trail, Tram and Trolley. This self-guided urban hike will lead you to Washington Park, and further to Council Crest Park, where you can soak up the panoramic vistas of Portland's waterfront and as far as Mount Hood on a clear day.
The 4T Trail is just one of numerous urban hikes in Portland. In addition, if you visit in the fall, there are many places within the city limits to enjoy the fall colors. In the spring, the city bursts into a riot of color as the cherry blossoms bloom.
Portland's food scene: vegan, markets and farms
One of the great reasons to visit Portland is for its diverse food scene, including more than 500 food carts in the city selling authentic dishes from around the globe. In addition, Portland has a reputation for being a savvy city when it comes to veganism and plant-based food options. Restaurants and food carts across the city include quite a few stellar vegetarian and vegan options. No surprise that Portland has repeatedly been named one of the best cities for vegans by sources like WalletHub, VegOut, and Frommer's.
Even after living in Portland for 4+ years now, there are still plenty of restaurants, food carts, and bars I need to check out. So before only scratching the surface by giving you tips for vegetarian and vegan food spots, check out Travel Portland's guide to vegan food.
Farmers' Markets
To shop fresh and local, I recommend visiting one of Portland's many farmer's markets. While the PSU Farmer's Market at Portland State University in Downtown Portland might be the most popular, almost every neighborhood in Portland hosts its own farmer's market on different days of the week. The ideal occasion to shop from local farmers and support small businesses.
If you happen to be visiting Portland in June or October, make sure to check out the Vegan Night Market, the largest vegan festival that takes place in Portland, Oregon, and Seattle, Washington State.
Organic local farms
While finding the best dining spots in Portland can become a hobby that you will most likely never be able to tick off your bucket list, it's worth checking out some of the organic farms, community gardens, and farm-to-table options outside the city.
No matter which direction you drive, you will find local farms everywhere around Portland. From flower festivals to U-pick berry fields in summer, pumpkin patches in fall, and holiday markets in winter – the opportunities to buy locally grown vegetables, harvest your own produce, and feast at farm-to-table dinners are endless.
Oregon Wine Country
Another great destination to taste locally grown and sourced ingredients are the 877 vineyards and 676 wineries located in the Willamette Valley between Portland and Eugene, also known as the Oregon Wine Country. This area alone offers the largest concentration of wineries and vineyards in the entire state and has many fun and delicious treats, making it one of the best reasons to visit Portland! Check out my weekend guide to Oregon's Wine Country.
Bio
Stefanie Wich-Herrlein is a travel writer and content creator from Germany. She has traveled around the globe, lived in South Africa, China and the US. Since 20129, she calls Portland, Oregon her home away from home. On Smile4Travel, a community for travel, the outdoors and a sustainable lifestyle, she writes about her travel adventures and inspires her followers to explore responsibly. Stefanie can also be found on Instagram, Facebook, Pinterest and TikTok as @Smile4Travel.